I often speak to new clients about why they've moved their website to Host Geek. There are a variety of common reasons including poor support, unreliable servers, lack of features and, my favourite, "unlimited hosting" that wasn't unlimited. There are a lot of web hosting companies that promote their services for a very low price and, incredibly, also offer unlimited hosting.

Before I get into this, I'd like to take a look at the question "What is Unlimited Hosting?
Unlimited Hosting is usually the promise of unlimited disk storage and data transfer, as well as many other extras like add-on domains and databases. Essentially, they're saying you can host as many websites as you want (unlimited websites) for one small price.
Is Unlimited Disk Storage And Bandwidth a Reality?
The quick answer is: unlimited hosting is always limited. A hosting provider simply doesn't have the capacity to offer unlimited bandwidth when there is limited infrastructure to transmit the data. A web host has a finite amount of server space at their disposal so is it realistic that they will allow one client to fill up their servers? No.
The term unlimited is a term created by web hosting marketers to help them convert you. You have to admit, it does sound appealing paying under $10/m for all you can use.
Unlimited hosting could be compared to a buffet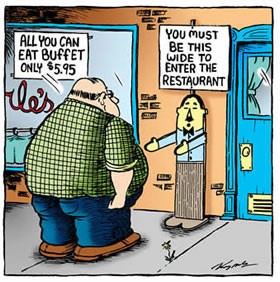 All you can eat buffets are fantastic – that is, until you go to a fancy one and eat like it's your last meal. If you were at a seafood buffet and had returned 9 times to fill your entire plate with Lobster, management may step in for a quiet word.  With unlimited hosting plans, it's generally no different. You're welcome to create as many websites as you like using add-on domains and feel free to use as much bandwidth and disk space as you like – so long as you don't actually take them up on the offer!
Here's the problem – if you look at most Web Hosts' terms and conditions you'll notice a clause which refers to fair use. Basically that means you can't overuse your hosting plan. Most web hosts will have some form of fair use policy which is necessary for a variety of reasons. It's also a good way for unlimited hosts to ensure you don't get unlimited services.
What happens if you overdo it?
Each website will have different fair usage rules. Some of the bigger US hosts, such as Bluehost, will throttle back your CPU usage once you hit their limit. Others will place limits on your account or even shut you down if you reach a certain number of inodes, RAM usage or number of MySQL Databases. There are many ways you can overdo it!
How can a web host offer unlimited hosting?
The bigger providers of web hosting have an extremely large hosting capacity. Their servers could never be exceeded by one website on its own, or even a group of websites. In addition to that, most websites don't use anywhere near their allocated space and require only limited resources to run at optimum levels. This allows web hosts to use the excess capacity for the client's accounts that need it. This is a practice known as over-selling. So long as every customer doesn't use excessive resources at the same time, everything runs fine. To avoid any server meltdowns, web hosts will monitor overusage and act accordingly.
Should you choose unlimited hosting?
The simple fact is, web hosting is about more than just bandwidth and disk space. There are a range of factors to consider including where the host's servers are located and their support offering. Attached below is a useful checklist when considering a new web host. We've kept this fairly simplistic to highlight what we consider to be some of the most important considerations.
In addition to the below four points, you may also want to look at the features offered by the host such as free routine backups and one click WordPress and Magento installations. You need to consider what type of website you're going to build and match your requirements to the best suited web host – not necessarily the cheapest with unlimited hosting.
Unlimited hosting seems an exciting proposition. The reality is, most websites simply don't need it. A plan offering limited space but highly reliable servers and amazing support is a better option.
The tricky part is comparing web hosts on factors like their support offering. To separate the good from the bad you could:
• Check places like web hosting forums to see whether other past customers have had a good experience with their host.
• Visit prospective hosts websites and have a good read of their hosting pages as well as their terms and conditions.
• Ask for testimonials from the web hosting company.
• Review the hosting company's social media pages to check for any negative sentiment.
Good luck with choosing a web host and remember, if something seems too good to be true, it usually is.